S. H. Hadi Naqvi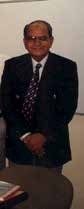 Founder Gasco Engineering
February 10, 1939 – August 14, 2003
The Founder of the Organization.
Mr. S. H. Hadi Naqvi was a Commerce Graduate and started his business with a very small amount of capital. Armed with his sharp instinct, unfailing integrity, unshakeable resolve, and fierce dedication, within a short period of time he established Gasco as a named to be reckoned with in the oil & gas industry.
He hailed from a small village in India and envisaged the growing demand for energy and the importance of providing a value oriented service to the oil & gas industry in Pakistan and internationally. With that lofty goal in mind, he started Gasco,, and turned his dream into a reality.
Not only an exceptional human being but an outstanding leader,, our Chairman, Mr. Hadi Naqvi was a man far ahead of his times, He epitomised the dauntless entrepreneurial spirit. His life and achievements are proof that with confidence, courage and conviction, man can achieve the impossible. From a humble beginning, he went on to create an internationally successful business; Gasco is a living testimony to his indomitable will, single-minded dedication and an unrelenting commitment to his goals.
We are fortunate to have had a man of Mr. Hadi Naqvi's stature as our founding father. His sterling leadership qualities, remarkable foresight, uncompromising pursuit of excellence, humility, prodigious capacity to motivate and trust people will continue to guide and inspire future generations at Gasco. We are proud and privileged to inherit this invaluable legacy.
To be the global oil & gas industry's premier facilities and infrastructure provider, admired by customers and employees for consistently delivering and rewarding excellence.
To be the global oil & gas industry's premier facilities and infrastructure provider,
admired by customers and employees for consistently delivering and rewarding excellence.
To achieve this, we will:
Work to world-class standards
Focus always on customer satisfaction
Respect the environment and be sensitive to the communities in which we work
Promote and reward on merit
<! ========= Cool Timeline Free 1.3.2 =========>
Timeline
1990
Gasco Engineering Services was established as an indenter – equipment supplier in Karachi, Pakistan.
1993
Gasco Engineering Services was transformed into Gasco Engineering (Pvt) Limited.
1995
Gasco embarked on EPC contractor journey.
1996
Gasco with its principals recieved the first EPC (engineering, procurement, construction) contract.
1998
Gasco as the prime EPCC (engineering, procurement, construction & commissioning) body received its first contract.
2003
Gasco became the First Pakistani Private Company to offer Compression on the Rental Basis along with the operations & maintenance of the compressor packages. This also marked the start of Rental Compression niche for Gasco.
2007
Gasco started to provide complete turnkey compression solutions including engineering, supply, procurement, construction & commissioning of complete compression station.
2008
Gasco performed in-house & on-site compressor re-staging / re-cylindering. Gasco has in-house capability of engine / compressor top ends, major overhauls & trouble shooting.Gasco reorganises its structure and moves to become a pipeline construction contractor.Gasco's E&C services are expanded to include MEIC (mechanical, electrical, instrumentation & civil) for gas field facilities and development planning, early stage engineering, design and consultancy.
Gasco aims to generate sustainable growth in value by leveraging its core competencies, the ability to engineer, build and operate oil & gas infrastructure, and the ability to create and deliver value-adding investments.
We have designed our business strategy as such that will help us achieve our goals. It aims to anticipate customer requirements provide a broad & competitive range of products and services. Develop leading and new concepts coupled with beyond customer expectation services. Leverage core competency in Oil & Gas equipment. Invest in a balanced portfolio.
Gasco considers its employees to be its most important asset. We aim to recruit locally and greatly understand the importance of training & development for our employees. The health, safety, and security of our people are of paramount importance to our company and for that purpose, a number of measures and initiatives are in place throughout our business to safeguard their interests.
Our people are the greatest example of diversity, teamwork, and dedication. Gasco encourages diversity and inclusion in its work environment & therefore continuously incorporates programs and practices to promote it and foster a greater level of teamwork, which is instrumental in achieving superior business results.
The reason why Gasco emphasize on diversity in its work environment is:
Attract, develop, support, and retain a world-class workforce well-equipped to meet the challenges of the future.
Offer employees an engaging work environment that presents each person with opportunities to attain full potential.
Generate global, cross-cultural understanding and innovative thinking that can ultimately benefit Gasco's client base.
Establish effective relationships with business and partners.
Expand opportunities for a broad range of businesses in an extensive network of goods and services suppliers.
Have a positive impact on the quality of life through the company's support of education, health, and human services programs in the communities where Gasco's employees live and work.